Eyelash extensions are single eyelashes that are individually grafted on your natural eyelash to create a full and natural set of long eyelashes. Appointments are offered in the comfort of your own home, allowing you to relax whilst getting the lashes applied.
Price List:
Effective from 23rd February 2015
Full Set                             $100.00      (Single lashes, Double Lashes and Triple Lashes available)
In-fills within 2 weeks        $40.00
In-fills 2-3 weeks               $60.00
In-fills 3-4 weeks               $80.00
Lash Removal                   POA
* Note: if a large number of lashes are missing you may need a full set instead of an in-fill. You will be advised of this before application. In-fills are only available for sets I have previously applied.
** Travel charges may apply depending on location. Please contact to confirm.
*** Deposit is required to secure appointment.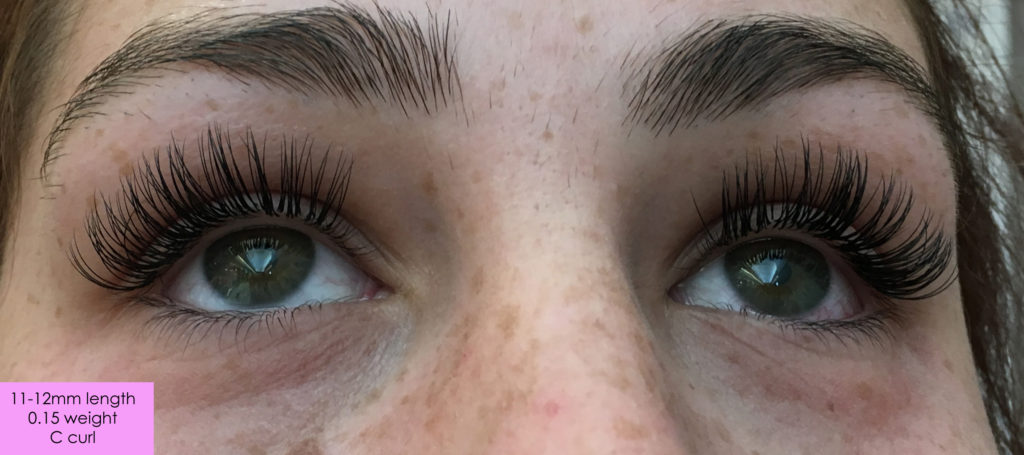 FAQs
How long does the grafting of eyelashes take?
It is a meticulous procedure that requires patience and concentration. You relax with your eyes closed and there is no pain as this is a non-invasive procedure. Often clients are so relaxed they fall asleep.
A full set of eyelash extensions will take around 2 hours. Time required for in-fills varies based on how many lashes you require, expect at least 1 hour.
Do eyelash extensions make my own eyelashes fall out?
No, definitely not this is a myth. It is important to note that your eyelashes have a natural cycle and constantly being replaced like your hair. There is no way to tell prior to having your eyelash extensions applied at which point of the cycle your individual eyelashes are at.
If you play with or tug at your eyelash extensions and pull out your own natural lash there will be no new lash ready to grow to take its place and you will have to wait 6-8 weeks for that lash to grow.
Can wear eye makeup with eyelash extensions?
Absolutely, the important thing to remember about wearing eye makeup is that it needs to come off. When removing eyeliner use a damp cotton bud and to remove eye shadow wet a cotton circle. Using a small amount of Mary Kay oil-free eye makeup remover gently remove in a side and upward movement not down onto the eyelash extensions. Wiping down towards the lashes will cause a build up of makeup on the lashes and may lessen the life of them.
NOTE: Many oil based eye makeup removers contain dissolving agents that will dissolve the grafting agent for your eyelash extensions. We cannot guarantee the life of your lashes if you use products that will dissolve the grafting agent.
Can I wear mascara?
Lash extensions make you look like you are always wearing mascara. It is not recommended to wear mascara over your extensions. You can carefully add some to your lower lashes, but avoid waterproof.
How long will my eyelash extensions last?
Approximately 2-4 weeks if look after and take care of them. At about 2 or 3 weeks you will need to have an in-fill to maintain the full and natural look.
This is a semi-permanent beauty procedure. A real lash's life cycle is around 25-28 days, and as yours grows and fall out, so will the eyelash extensions that are attached. If your hair and nails grow quickly then that may indicate that your lashes also are growing, shedding and renewing themselves quickly so you may find that your lashes will not last as long as someone whose hair growth is slow.
I had eyelash extensions applied a few days ago and a few lashes have fallen out – why?
As explained above the lash has a growth cycle and unfortunately it is hard to determine which lash is ready to fall out naturally so it is unpredictable when applying the eyelash extensions.
Each day we can loose 3-5 natural lashes, but often they fall out unnoticed unless they fall into your eye, but when eyelash extensions are applied we are more aware of when they shed as we know the extensions are there plus they are longer, darker and thicker. In the mornings you will generally find a few on the pillow also so don't be alarmed this is natural.
Why should I get eyelash extensions?
It will cut your beauty routine time down in the mornings
No running or streaking mascara
The good news is that eyelash extensions make you able to flutter your lashes beautifully without mascara
Lasts from 2-4 weeks with proper maintenance
No operation, no pain – non-invasive procedure
Safe in showers, swimming pools and saunas
Weightless and very natural looking
Your eyes will look bigger, more defined & gorgeous even with no make up
Great for people who wear contact lenses
Perfect for brides, mums on the run and busy people
Ladies who can't wear mascara
How do I look after my eyelash extensions?
For the first 24 hours avoid getting the lashes wet to allow the glue to completely dry – avoid steam rooms, saunas or swimming pools
Be gentle with your new lashes. Avoid rubbing or tugging your eyes
Resist the temptation to touch or pull at your stunning new lashes as this will pull out your own natural lashes
Brush gently to remove lashes that have fallen off and restore shape
When drying your face do not rub instead blot your face and apply a gently pressure to your closed eyes then allow the extensions to dry naturally. Don't try to dry them with the towel or hair dryer
Do not perm or curl the extensions
Avoid wearing mascara on your extensions
Do not use eye makeup remover that is oil based
Is there any reason why I can't have eyelash extensions applied?

Glue allergy
Allergic to acrylic nails
Eye inflammations such as Blepharitis and Conjunctivitis
What should I do before my eyelash extension appointment?
If you have fair eyelashes it is recommended to have them tinted at least the day before your eyelash extension appointment. Please arrive with no eye makeup and do not perm or curl your eyelashes before your appointment. If you wear contact lenses please bring your contact lens case as your lenses will need to be removed.